East Rutherford, NJ – The New York Giants and Gatorade have selected Mr. Brian Dunn of Old Tappan High School (Old Tappan, NJ) as the Lou Rettino High School Coach of the Week for Week 10 of the 2022 season. The Old Tappan Knights finished their regular season with an impressive 10-1 record before advancing to the postseason. Last Saturday, the Knights defeated Hillside, 28-14, in the first round of the playoff. On Sunday, the Knights hope to advance in the postseason as they face West Morris in round two.
The Lou Rettino High School Football Coach of the Week Award is part of the Giants' continuing effort to support local high school football programs. The Giants elected to name the award in memory of former Union High School (NJ) coach, Lou Rettino, for his fine commitment to the game of football, his community and the betterment of his athletes' lives. Each week during the high school football season, the Giants select one area high school head coach as the Coach of the Week winner. The selection is based on the coach's continued commitment towards promoting youth football, developing motivated student-athletes and contributing overall to their community.
In recognition of Coach Dunn's selection as Coach of the Week, a $2,000 check will be granted to the school's football program from The Giants Foundation and Gatorade. Dunn will also receive a certificate of recognition signed by Giants head coach Brian Daboll and will be honored at a dinner following the season, as well as a 2023 pre-season home game.
Coach Dunn is in his twenty-third season with Old Tappan's football program. Dunn and his staff have led the team to three section titles, and the program's storied history includes 20 playoff and 8 finals appearances. Dunn also coaches girls basketball at Old Tappan, where he has led his team to more than 400 wins. Regardless of the sport, Dunn's passion for coaching is undeniable.
He reflected positively on Old Tappan football's preparation following the win over Hillside: "The great thing is, we get another week to practice and stay together as a team. That's the best part. We have a close team and guys who love to be around each other and guys who love coaching them. That's our goal to get more time on the field."
Lorenzo Baratta, Old Tappan athletic director, also highlighted the outstanding contributions of stakeholders in the community: "Our players always step on the field ready to compete, and that is a true testament to the dedication of our coaching staff. Coach Dunn shares this honor with his players, staff and parents – past and present. The Old Tappan Golden Knights are steeped in a rich tradition that permeates throughout our communities."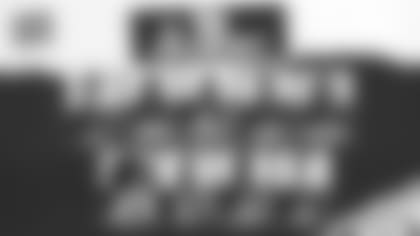 Vote Giants to 2023 Pro Bowl Games
Online voting is now open for the 2023 Pro Bowl Games. Vote for your favorite Giants players.